We want to wish a Happy Holiday to all our family and friends. It has been another good year for the Mudds and we hope it has been the same for all of you!
Patti Now Works For Oracle
Patti took a permanent job with Oracle as a full-time employee. She now manages approximately 30 resources (people) who work on installing utility metering and billing software - and all from home!
New Member of the Mudd Family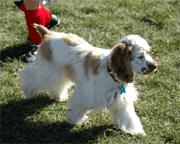 After the untimely passing of Stinker (our yellow cat) and an abortive attempt at adopting another cat, the Mudd family decided to try something completely different… We got a dog! He is a cocker spaniel that we have named "Taz." Taz is very cute, a lot of fun and very destructive – so I guess the name is appropriate! Taz loves to go for long walks, dribble a soccer ball, chew shoes and paper, and play with other dogs and people. He is not very fond of baths or having his fur brushed – which Patti is constantly doing.
Mudd Adventures
Our summer break was a family visit to Lamore for Jenny's (our niece) high school graduation with a quick stopover at Disneyland. Jenny's graduation ceremony was very impressive – great fireworks and a flyover by Navy jets! We also had two great days in Disneyland.
Loren's Competitive Soccer Career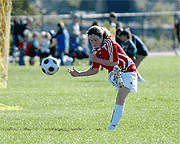 Loren had a really great year in soccer. She has done very well on her team as a solid defender. She loves her coach and her teammates. Loren is a dominant player on her team in a variety of defensive positions. She is now playing indoor soccer with her team for the winter, and will soon start basketball at the YMCA. She is also thinking about trying out for volleyball at her school this spring.
Loren 7th Grade
Loren started the 7th grade this year at North Middle School. She continues to participate in the school band. This year, she is playing both the flute and piccolo. Loren is taking French as her foreign language even though her parents wanted her to take Spanish. She has a lot of friends and really enjoys the social aspect of school.
Visitors, Visitors and more Visitors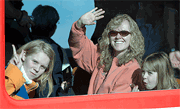 Grandma Fountain visited us twice this year, as did Rachel (Patti's youngest sibling). Rachel decided to move to Denver in October, much to Loren's delight! Vinnie, JoAnne, Jenny, Kimmie and David stopped at the Casa de Mudd for a few days before the family left for Japan. Everyone had fun, and it was nice to have JoAnne and Jenny back in Colorado! Patti's parents came out for a visit that coincided with Vinnie's stay. Everyone had a good time – the major tourist event of the visit was a trip on the cog rail to the top of Pikes Peak.
Interesting Year for Doug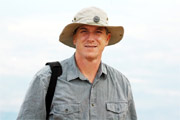 Doug has had a difficult year in terms of health, beginning with a kidney stone that had to be removed surgically, then the removal of a basil cell cancer from his jaw line (not dangerous) and ending with appendicitis at the beginning of November. The good news is that these problems are not indicators of overall bad health – but the first two do require monitoring…

Happy Holidays,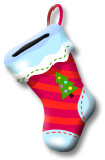 Loren, Doug and Patti