We want to wish a Merry Christmas and Happy Holidays to all our family and friends!
Auntie Rachel Moves to Colorado
Patti's sister Rachel moved to Denver this year – following us yet again, much to Loren's delight. She has added an element of family to our activities and has visited us in Colorado Springs several times.
Mudd Family Pets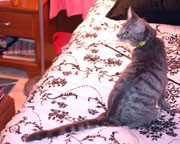 2009 has been a good year for Taz and Blanca. They have been relatively healthy and have even grown to tolerate each other. The big news as this newsletter goes to press is that Loren has chosen a new cat to add to the family – as a reward for getting good grades for the first half of 8 th grade. The newcomer's name is Lynx and he is a beautiful silver-gray 7-month old male.
Mudd Adventures In Maine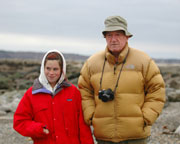 This year we went to Maine for Thanksgiving for a Mudd-family reunion – parents Donald, Carol and brother Scott and his wife were there in addition to Doug, Patti and Loren. We had a great dinner at the Samoset resort and a relaxing visit in spite of the cold and overcast weather!
Loren's Competitive Soccer Career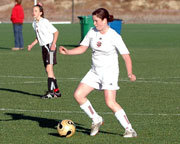 Loren continues to be a solid defensive anchor for her soccer team and enjoys her coach and teammates. Her team had a very successful fall season with a 7-1 record. Loren is currently playing indoor soccer, (as is her dad). Things are going a bit better for Loren - as we had to take Doug to the emergency room twice – once for stiches and once for a dislocated finger.
Loren Goes to Summer Camp
Loren went to her first overnight Summer Camp this year – Camp Shadybrook, run by the YMCA about 1 ½ hours away from Colorado Springs in the mountains. She was there for a week and had a great time riding horses, canoeing, and hiking! Loren is really looking forward to a school trip to Switzerland, France and England with her school this summer.
Loren Continues her Music Quest
This year Loren has tried a few new instruments – Saxaphone over the summer, Trumpet in the fall. After Christmas Loren is planning on giving up the Trumpet for a Euphonium and she will also start to learning how to play her first string instrument - the Cello. She is also keeping up her flute skills.
Doug & Patti
Doug and Patti had a busy year, especially Patti. Her work was reorganized with the result she is now traveling again on most weeks. Doug and Loren are surviving, though they would prefer to have Patti home more often. She has been working mostly in Connecticut. Doug also traveled out east this year to Manchester, New Hampshire. He left October to teach a two-day course on numismatic photography for the ANA – the course worked out well, but the weather was terrible so he did not get to see much of the town.

Happy Holidays,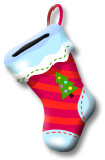 Loren, Doug and Patti